Where to knock down Timber Pines in Fortnite?
Fortnite
has just been updated with a fresh batch of seasonal quests, one of which tasks players with knocking down five timber pines around the island.
The online game is about to start its next "Power Leveling Weekend", which will give you ample opportunity to earn additional battle stars at an accelerated rate. So, this would be the ideal time to complete the timber pine challenge, as your XP reward will be doubled.
As for what the quest entails, it's relatively straightforward. You simply have to chop down five trees on the island—and your progress will carry over between matches if you don't manage to hit that target before the final storm phase.
There is a catch, however. You cannot topple any random piece of foliage. You have to locate towering pine trees, which are a little harder to come by.
To help you out, Newsweek has prepared the following guide on where to find the timber pines and how to knock them down.
Timber Pines in Fortnite (Locations)
Unlike the recent toy biplanes challenge, the timber pines quest won't update your map with any pointers about where to look. You are left to your own devices and must figure out a strategy.
We have found that the highest concentration of timber pines is at the western side of Logjam Lumberyard. The location is marked on the map below with a blue pointer.
This forested area is covered in all kinds of trees, but you can easily distinguish the ones you are looking for. The timber pines are significantly taller and their bark appears slightly bleached in comparison to the other trees. To help you spot the difference, we have included a screenshot below.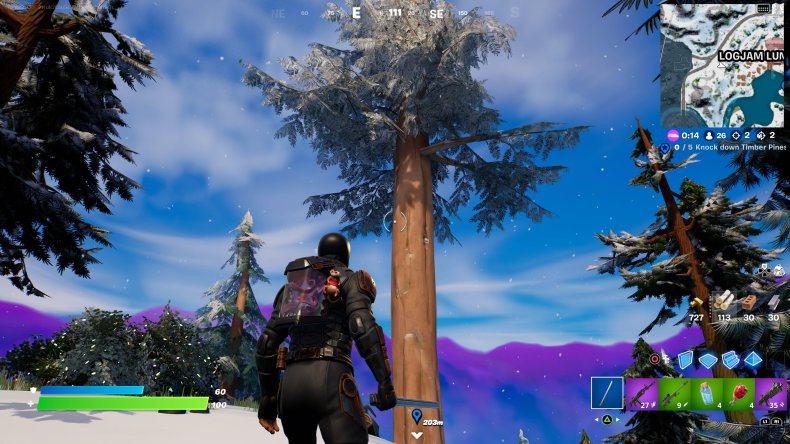 How to Knock Down the Timber Pines in 'Fortnite'
Once you have found a timber pine, you will have to knock it down. To do this, you must inflict damage on its trunk with a weapon or your harvesting tool. The latter is by far the more efficient method and will conserve your ammunition to boot.
If you aim for the tree's weak point, which is indicated by a red dot within a blue circle, you will be able to harvest it twice as fast. With enough persistence, the timber pine will topple. Find four more pines, chop them down and you will have completed the quest.
For more help with Fortnite Chapter 3, check out our guides on how to master the sliding mechanic and what crowns do.